Help Save Our Oceans
Every day, 1.5 billion disposable cotton swabs are produced, and for every 100 feet of beach, there are 9 cotton swabs.
See LastSwab
Features
Why Use Trio Pro?
3 Swabs to Cover all Your Beauty Needs

The three swabs perfectly complement each other so that you can get the versatility you want from a makeup and beauty tool. And they come in a practical case with a mirror! Let's save the oceans - one swab at a time!

Minimize Makeup Waste

The LastSwab Beauty Trio Pro allows you to apply, touch-up, and remove makeup more efficiently, reducing the waste generated by disposable makeup applicators.

Conserve Resources

Opting for the Beauty Trio Pro conserves water, energy, and raw materials required in the production of disposable makeup applicators, promoting a more sustainable world.

Case Is Built to Last

The case is made of recycled Ocean Bound Plastic, and with proper care it will last you for 5-10 years. The mirror inside makes it easy to do makeup touchups on the go.
How to Use
Easy to Use & Easy to Clean
Step 1. Use It
Clean up smeared lipstick, smudged eyeliner, and mascara residue. If you use LastSwab Sharpen Pro, remember to first wet the tip a little.
Step 2. Clean It
Clean the tips with soap and water. The tips of LastSwab Sharpen Pro can also be washed in the washing machine (in a fine mesh bag).
Step 3. Store It
Pop the swab back into the case for safe-keeping. The swab can dry inside the case.
Overview
1 Case, 3 Fantastic Swabs
Footprint
This Kit
Replaces
Thousands of
Single-Use
Swabs
so that your
beauty routine
can keep the
planet beautiful too
See Footprint Facts

Press
"Never Use Disposable Swabs Again With This Everlasting Beauty Kit"
See Press Mentions

Reviews
Dustin

Innovation at its best
I am obsessed. I got the Last Swab Beauty Trio and it has made my makeup application a breeze with my clients. Great for perfecting any mishaps or detailing. Also, the case is very compact. All while helping decrease a carbon footprint? This is going on my friends stockings this year!
See Customer Reviews

Footprint
A Tool That Makes Your Daily Life Greener
Footprint Facts*
Product Life Cycle Is Validated by a 3rd Party. Based on LastSwab Original.
LastSwab is 8.3 X better for the environment**
Reduces carbon footprint (CO2) by 83%
Reduces water consumption by 92%
Reduces primary energy demand by 80%
After just 35 uses, you break even with CO2 emissions
*Sammenlignet med vatpinde til engangsbrug
**I betragtning af alle 22 miljøkategorier
Care for Your Case
The sturdy and sleek black case is made of Ocean Bound Plastic.
How to give your case a long life:
1. Keep the case away from direct sunlight.

2. Avoid using too much water when cleaning the case - ideally use hand sanitiser instead.

The case can be recycled with hard plastic.
Three Swabs to Make Your Beauty Routine Green
End of Product Life
The LastSwab case can be recycled together with plastic. The rod is a mix of materials and can be sent in with the Pact Collective Recycling program (US/Canada). The cardboard packaging can enjoy a new life by recycling it with cardboard.
Kickstarter
How It Started
Awesome Combos
Our Pro Swabs Are a Pro Combo With...
Replaces +1750 single-use rounds
Perfect for removing highly pigmented makeup or nail polish without getting stained.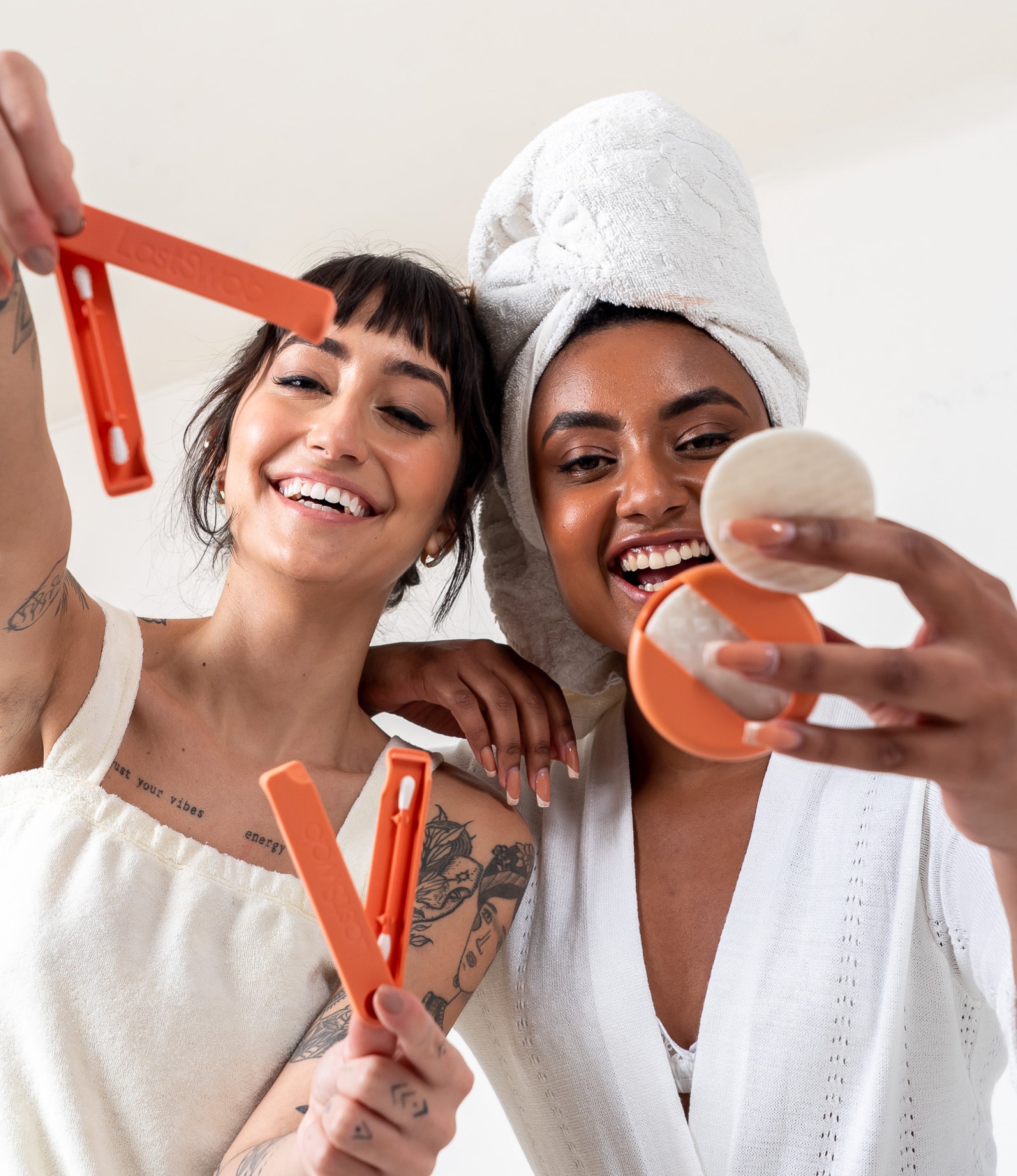 Ready to Spice up Your Beauty Routine With More Sustainable Products?
View All Products
FAQ
Everything You Want to Know
Most Asked
Product
Sustainability
Use & clean your LastSwabs
The three swabs are very versatile. You can use them to correct and perfect your makeup, create freckles and feather your brows. You can also use it to apply ointments, clean your ears, etc.
To clean the swab, use a little soap and water and gently rub the tips for 1-2 seconds. Rinse and put it back into the fabulous case, and it's ready to be used again. LastSwab Sharpen Pro has exchangeable tips, and four extra are included. They can be washed by hand or in the washing machine (but remember to put them in a mesh bag so they don't get lost).
The case can be cleaned with soap and water or with a hand sanitizer.
Materials & Packaging
The rod in all three swabs is made from polypropylene (PP) reinforced with glass fiber. It will last for a long time without breaking. The swab is completely latex-free.
The tips of the LastSwab Original Pro and LastSwab Beauty Pro are made of thermoplastic elastomers, TPE. This makes them sturdy and durable while working just as great as regular swabs for grabbing unwanted particles, wax, or makeup residue
LastSwab Sharpen Pro has tips made from 30% cotton and 70% wood fiber. They are home compostable.
The swab comes in a case made from recycled and certified Ocean Bound Plastic.
To make it even more sustainable, the packaging is Cradle to Cradle certified and printed with eco-friendly and safe ink. It's so safe you can even lick it. But please don't.
Sustainability & Footprint
LastSwab Beauty Trio Pro will together replace more than 2750 single-use swabs.
With each LastSwab, you break even with the CO2 emissions after only 35 uses. Compared to single-use swabs across the 22 environmental categories, LastSwab is 8.3 times better as an option than even the most eco-friendly single-use swabs made of paper or bamboo. LastSwab reduces CO2 by 83% and water consumption by 92%. In other words, it's a much greener option.*
*Footprint facts are based on LastSwab Original.
Refills
We don't currently have refills for LastSwab Beauty Trio Pro, but it may come in the future.
Shipping
Shipping varies depending on your region.
If you are located in the United States or United Kingdom, shipping takes 2-4 business days.
If you are located in Canada or Europe, shipping takes 3-6 business days.
If you are located outside of these countries, shipping takes 2-10 business days.
Shipping prices vary.
United States = $4,97 USD
United Kingdom = $4,95 USD
Canada = $7,52 USD.
Europe is usually between $4,50 USD to $5,50 USD.
You can find a full breakdown here.
If you live in the US, UK or Canada, your order will be shipped from your country/domestically. If you live elsewhere, it will be shipped from Denmark.
Care for your LastSwab
Your swabs will together replace about 2.750 single-use swabs. To make it last as long as expected, make sure to clean it gently between each use. Use your fingertips and rub the tips with soap and water to get them clean. Always store it in the case and keep away from heat. Clean the case with soap and water and never in the dishwasher.
Design & manufacturing
All of our products are designed and developed in Denmark. LastSwab is manufactured in Germany.
Product measurements
LastSwab is 7,8cm or 3" long, and the case measures 7,8 x 0.88 cm or 3 x 0.35''
Product Case & Ocean Bound Plastic
The case is made from recycled and certified Ocean Bound Plastic. This means that the plastic has been collected from beaches and riverbeds where it poses a threat of entering the oceans and waterways.
End of product & recycling
LastSwab Beauty Trio Pro is carefully designed and rigorously tested to last up to 2.750 times for all three swabs together. The case can be recycled with plastic. The rod is a mix of materials and can be sent in with thePact Collective Recycling program(US/Canada). The cardboard packaging can enjoy a new life if you recycle it with cardboard. The tips from LastSwab Sharpen Pro are home compostable and can be put in a flower pot or in your compost to turn into soil.
Single-use products & alternatives
Single-use cotton swabsmade of plastic or paper have a damaging impact on the environment. In addition to production and packaging, these cotton swabs must also go through warehousing and shipping only to be used and immediately discarded — sometimes within a matter or seconds. During this process, the use of raw materials and level of carbon emissions significantly impacts the planet and propels global warming, whichultimately accelerates climate change. Switching to reusable products like LastSwab Beauty Trio Pro plays a critical role in minimizing this environmental damage as the daily consumption of single-use products quickly adds up.
Lifecycle analysis & breaking even
LastSwab is 8.3 times better for the environment considering all 22 environmental impact categories. After just 35 uses you break even with CO2 emissions. If you use your swab once per day, this means it takes just a month to ensure a happier and healthier environment. To make that even better, water consumption is reduced by 92%. This lifecycle analysis is based on LastSwab Original.
Vegan & cruelty-free
LastSwab is completely vegan and of course we don't test on animals. By using reusable products, you ensure single-use products don't end up in nature to become food for the animals. So it's not just about avoiding products which are cruelty-free, but taking it further to completely replace these types of products with better and kinder options.
Recycled Ocean Bound Plastic
We work with recycled Ocean Bound Plastic in two ways. First of all, we collaborate with the organization Plastic For Change to remove 1lb of plastic with every single order.
The other way is that we make our cases from recycled Ocean Bound Plastic.